Stewardship makes some of us quake in shoes, thinking that we will be required to give up something that we really need. Let me put your mind at rest. God wants us to give out of abundance, not out of our fear. He will never ask of you something that He hasn't already given to you.
That's why the scriptures says in 2 Corinthians 9:7. "Each of you should give what you have decided in your heart to give, not reluctantly or under compulsion, for God loves a cheerful giver."
A NOTE FROM PASTOR CHERYL
As you listen to the testimonies in Church this stewardship month, take time to thank God for the gifts that He has given you and has allowed you to share with others.
---
"FRESH WIND, FRESH FIRE" BIBLE STUDY HAS BEGUN
                    SUNDAY'S -Adult Sunday School  9:00 – 9:45AM in UL8
Weekly Bible Study
   MONDAY – Women's "Zoom" Study  7:00pm –  Facilitator: Janice Singer
                         Men's "In person" Study in UL8  7:00pm – Facilitator: Rene Cardona
  THURSDAY- Women's  "Zoom" Study 10:30am – Facilitator: Margorie Stadinger
                        Mixed Group "Zoom" Study 10:30am – Facilitator: Paul & Donna Yanosy
It's not too late to join a group!!
If you would like to join one of the groups above, Please call the church office at:  Loriadmin@calvaryenfield.org
---
**NOTE:  KIDS AND TEENS MINISTRY WILL BE STARTING IN THE NEAR FUTURE.
On September 19, 2021, we were blessed with the Installation of Pastor Cheryl Kincaid here at Calvary Church.  It was a very exciting day with ECO Pastors speaking, Laying on hands in prayer, Songs of praise and a special reception meal afterwards.
Congratulations and Welcome Pastor Cheryl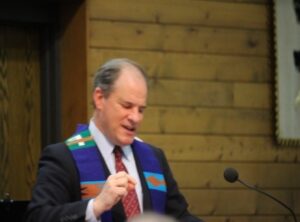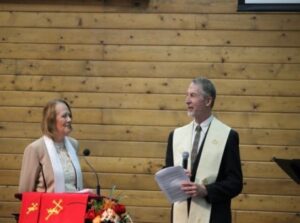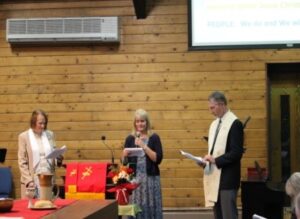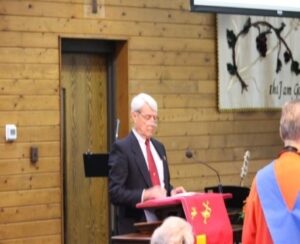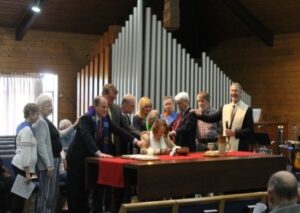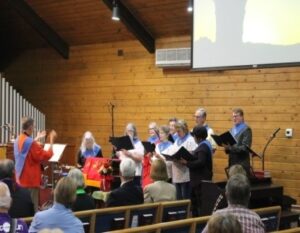 ---
Music New's from Lori Bourret
Choir Rehearsals Schedule will be as follows:
October 24 –   9:15 -9:45 am before singing in the 10:00am Service
October 10, 17, and 31 –  11:30- 12:15 rehearsals will be held after the service
A tremendous THANK YOU to the Choir, the Organist, Lori Bourret, and Choir Conductor, Cathy Perrill, for sharing their musical talents for Pastor Cheryl's Installation Service.
Great Job!!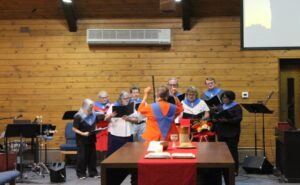 ---
Pray 1, Stich 2 Ministry
Every Wednesday Morning, a group of women
get together to spend an hour or two knitting Lap Blankets and Prayer Shawls for those hurting, sick or need a little piece of TLC to wrap themselves in.
These women lovingly and faithfully make these items that are prayed over and then sent out to bless others.
Thank you Ladies for using your gifts and talents that God has given you to bring joy to others and brighten up the lives of those who receive them.
If you would like to know more about this knitting group or would like to donated unused/clean yarn, please see Jeanne Roberts or you may call the church office at: 860-745-5211
---

Have you or someone you know lost a loved one?
No should have to bear this alone.
Here at Calvary Presbyterian Church, there is a support meeting every Saturday from 10:30am – 12:pm in Room UL8. This support group meets for 13 weeks.
 For more information, you may call the church office @ 860-745-5211
Or see Linley Rouss
---
OCTOBER IS "STEWARDSHIP MONTH "HERE AT CALVARY
You may pick up your Stewardship Letters from Paul Yanosy and Pastor Cheryl that are out on the table in Fellowship Mall.  Enclosed are the Pledge cards that will need to be turned in by OCTOBER 31, 2021. Please prayerfully consider what the Lord has put on your hearts.  For those who are not able to be in church, this letter and Pledge Card has been mailed out to you.
(If you are not a Covenant Partner but would still like to pledge a gift, there are be Blue Pledge Cards on the table.)
Please be in prayer about Stewardship at Calvary Presbyterian Church.
"Freely you have received, freely give"  Matthew 10:8
NOTE:  There is a "Typo Error" on the back of the Pledge Card (Fragrant Offering).
A starting date decision of when you like this pledge to start gives you the options of now ….and should read:  January 2022 NOT January 2021.
---
Stop by our Coffee Hour Table following the church service.
There you will find..great Fellowship Time, Delicious Hot Coffee and maybe even a yummy treat.
We need Volunteers for a few minutes before and after service to help set up table, make coffee and clean up afterwards.
See sign-up sheet on the Coffee Table
 We appreciate your service greatly!
---
  OCTOBER CELEBRATIONS
---
LET'S CELEBRATE TOGETHER!!!
If you or someone you know has a Birthday in the Month we are in, we want to celebrate YOU!
EVERY 3RD SUNDAY….Following the Church Service, at 11:15am, we will congregate in Fellowship mall and serve a very
Special Birthday Cake to everyone we'll  even sing Happy Birthday to you!!!
If you have a friend or someone you know with a birthday in the month we are in bring them too!!
There are Birthday Invitations on the Kiosk in Fellowship Mall to give out.
Let's Celebrate the day God delighted us all by bringing you into this world.
---
THIS IS THE DAY THE LORD HAS MADE;
LET US REJOICE AND BE GLAD IN IT.   PSALM 118:24
THE POWER OF PRAYER TESTIMONY
I AM A LIVING EXAMPLE OF WHAT PRAYER CAN DO.
On 7/11, I had a brain aneurysm and 4 strokes.  I was in a coma for 2 weeks and was on a breathing tube. 
The doctors didn't give me much chance of survival.   But, I did.  My PCP called me a miracle!
I don't know much of what went on, only what my family and friends have told me. 
They cried and prayed along with many others.  I was fortunate to have so many people praying for me. 
My daughter, Taryn, say's it was prayer that pulled me through.
All I can say is Thank You to all who prayed for me and guided the doctor's hands.  AMEN
 Edie Heeber
What an amazing Story! Thank you Edie for sharing it with us. God is Good and out Great Physician!
If you have a brief story you would like to share in the Crier, please submit it to the office by the 3rd week of the month at  Loriadmin@calvaryenfield.org.